Before we get into our in-depth comparison, let's look at who these email marketing solutions were created for.
AWeber has been around for a long time. It's the elder statesman of email marketing software, having been on the market since 1998.
This longevity and stability make AWeber safe, sensible choice. While it's navigation can be confusing and its user interface is a bit old fashioned, it's easy to learn how to use the program and you can get up to speed quickly.
Its contact management functionality make it a good option for anyone who runs a more niche business that needs to collect specific data on its customers.
One of the reasons behind Mailchimp's mammoth success is that it targets users of all levels.
Whether you're using the solution to send out your family email newsletter this holiday season, or you're an enterprise with an email list of 250,000 subscribers, Mailchimp claims to have you covered.
Its blend of usability and data-driven features make it a good option for anyone wanting to take a scientific approach to their marketing campaigns.Features
Both AWeber and Mailchimp offer advanced analytics to help you both collect useful data and get actionable insight that helps you create better marketing campaigns.
AWeber takes a data-focused approach to email marketing. Its subscriber management functionality helps you take a deep dive into customer interactions with your brand by providing advanced search and filter options.
This includes the specific web page a customer visited and how much money they have spent with your brand.
Using this information, you can create very specific segments based on conditions that are relevant to your business.
For example, you can target campaigns at a segment that has spent more than $300 with your business. This way, you can try to drive up average order value and upsell or cross sell products, such as ending your emails with specific CTAs.
AWeber also provides you with better insight into the performance of your campaigns so you can understand what kind of action you can take to make improvements.
These revenue-driven metrics include:
Conversions
Revenue over time
Sales in a specific period (such as the past 24 hours)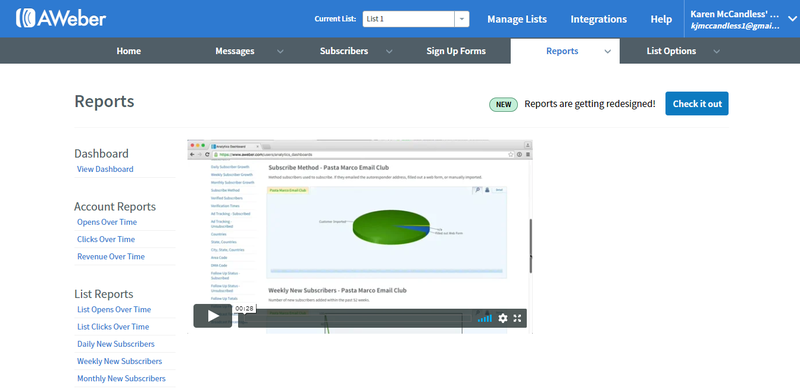 AWeber's reporting functionality allows you to optimize campaigns based on past performance
Mailchimp is also all about data: collecting, centralizing, analyzing, and getting insight from the information you collect from customers.
One of the standout features Mailchimp's machine learning model that builds segments automatically based on predictions about how likely a customer is to purchase your product or use your service, as well as what their spend might be.
Mailchimp also draws in this behavioral data to let you set up automated workflows.
With Mailchimp autoresponders, when a customer takes a certain action — such as signing up to a list or making a purchase — this triggers an automated response in Mailchimp. This could be sending a follow-up email or adding the customer to a specific segment.
Mailchimp also offers excellent analytics functionality, tracking metrics related to the return on investment of a campaign, such as revenue generated from an email.
Results
Mailchimp takes this round. There's not much more it could pack into one solution when it comes to email marketing.Support
AWeber vs. Mailchimp: Support
It's important for email marketing software to provide self-help support so that customers can solve the problem without contacting the company. Companies are also increasingly using live chat services due to their immediacy.
Live chat is an increasingly popular way to get quick, easy, and immediate support. AWeber provides live chat support on a 24/7 basis to all its customers, no matter what price plan you're on.
It also offers email support on a 24/7 basis that is tailored according to your industry.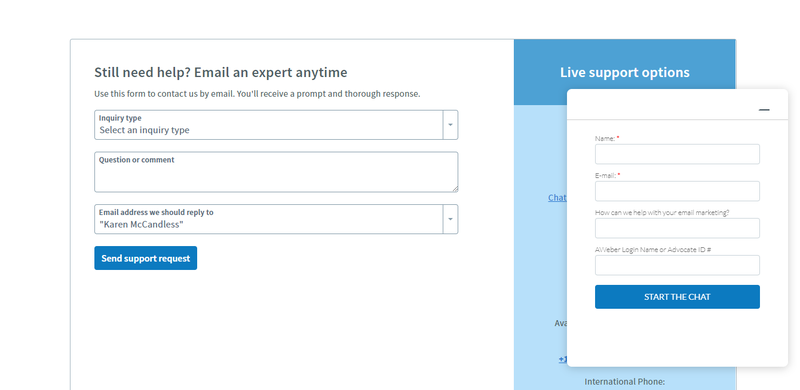 AWeber provides 24/7 live chat and email support.
AWeber has tons of self-help options, such as knowledge base articles that are personalized according to the feature you are using at the time and FAQs for technical queries.
Support is definitely Mailchimp's weak point. The company provides a comprehensive knowledge base, with a lot of useful articles and videos, but it's difficult to find a way to contact the company if you have a problem you can't solve yourself. The only way to find contact details is to scroll to the bottom of one of the knowledge base articles.
If you're on a free plan, you don't get access to 24/7 support, and phone support is only provided with the highest-tier price plan.
Results
AWeber wins the support round by offering 24/7 support via live chat and email no matter which plan you are on. It also makes it easy to contact its support team, whereas Mailchimp hides the contact details.Ease of Use
We're all pushed for time. That's why it's important to pick an email marketing software that is easy to use and that all users can quickly get up to speed on.
AWeber sits in the middle ground when it comes to ease of use. The software is straightforward when you know what you are doing and have tailored the product to suit your workflows.
However, before you can even start your emails, it overcomplicates the setup process and makes completing certain actions more difficult than they need to be.
If we take the example of the setup process, AWeber makes you create an email list as a first step. If you don't already have an email list, then you need to make up information before moving on to the main dashboard.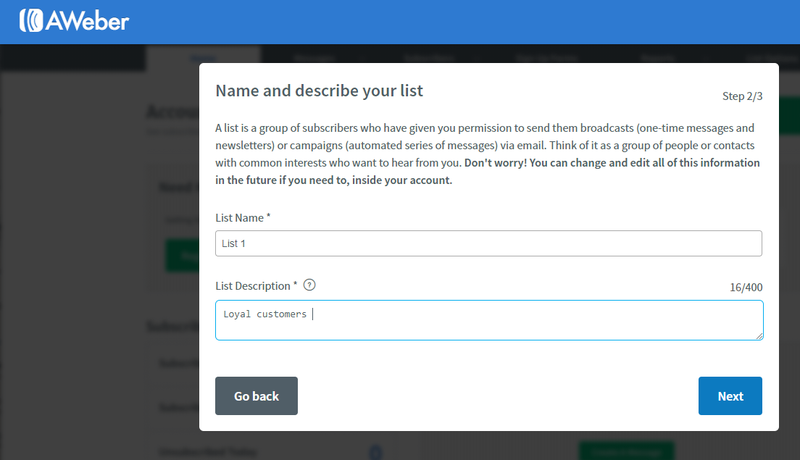 One of the first steps in setting up AWeber is creating an email list
Additionally, it can be difficult to find common features. Creating a segment is a basic email marketing functionality, but I had to google how to do because I couldn't find the option.
As Mailchimp caters to all sections of the market, even users who have no email marketing experience and only want to spend a few hours on their campaigns each month, the software provides tons of personalized in-app help.
From the moment you sign up, Mailchimp personalizes your experience based on your email marketing goals and use cases, such as:
Providing online bookings or appointments
Selling products online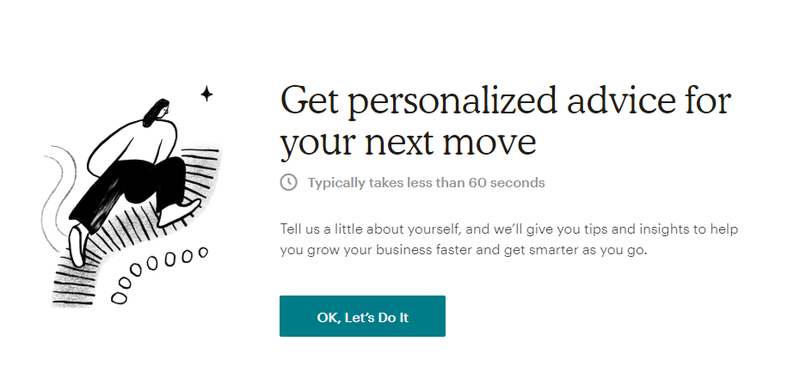 Mailchimp provides personalized in-app tips
Mailchimp 's explanation of features helps novice marketers learn how to use the software and become more familiar with email marketing concepts and terminology. It also provides tips while you are using the different features to help you get the most out of them.
Results
Mailchimp is super easy to use and takes this round. Even if you have no experience in email marketing software, you can still get up and running quickly and navigate the user interface with ease.Pricing
Pricing is a complex issue. You have to consider how many subscribers you have, how many emails you want to send a month, and which features are necessary for you to successfully run email marketing campaigns.
AWeber offers five different pricing tiers:
Free plan: no
Free trial: yes — 30 days
Discount: 14% quarterly discount, 14.9% yearly discount
Starting price: $19 per month for up to 500 subscribers and unlimited emails
AWeber's email marketing software is a more expensive option than many other email marketing solutions, coming in at $19 per month for up to 500 subscribers and unlimited emails. It offers a 30-day free trial (and you have to enter payment details), but no free plan.
The plus side with AWeber pricing is that you get access to the same features no matter what plan you choose and you get a 14% discount when you pay quarterly and a 14.9% discount when you pay yearly.
Mailchimp offers one free tier and three paid options:
Free plan: yes, but with a limit of 10,000 emails a month
Free trial: no
Discount: not for private sector organizations, but nonprofits and charities receive a 15% discount
Starting price: free, but the least expensive paid plan starts at $9.99 for 500 contacts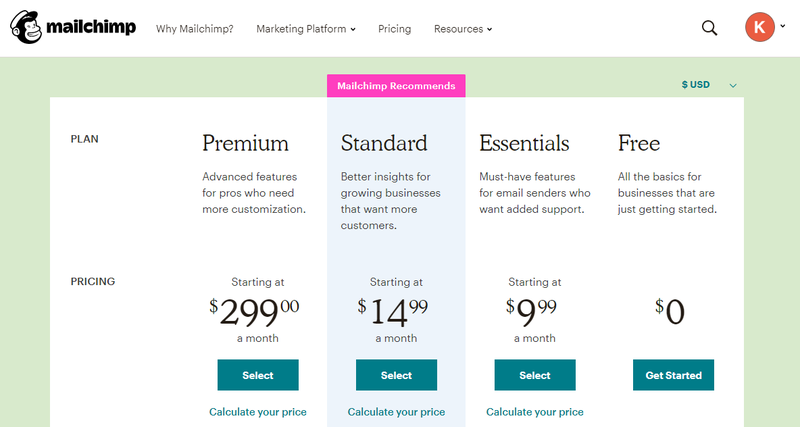 Mailchimp offers a free plan plus three paid plans
Mailchimp pricing options include a free plan, which is suitable for basic email marketing campaigns. It doesn't include A/B testing, advanced analytics, or support options, and it only provides basic email templates.
Most businesses will likely find that it doesn't meet their needs, as it doesn't let you delve deeply enough into customer behavior.
Mailchimp also provides a pay-as-you-go plan where you can buy email credits for sending a certain number of emails. This is useful if you send emails on an infrequent basis.
Results
This was a tough one to call, as the two solutions take two very different approaches.
For very small businesses, Mailchimp provides more value. For medium-size businesses, AWeber provides better value due to the fact that all features are included in all price plans, and all that changes is the number of subscribers.
As a comparison, Mailchimp 's Standard plan costs $74.99 per month for 5,000 subscribers while AWeber comes in at $49 per month for 5,000 subscribers (and all plans include all subscribers).
AWeber takes this round, as it is good value for most business sizes.Integration with Software
AWeber vs. Mailchimp : Integration with other software
Integrations are a useful way of extending the functionality of your software, as well as making sure information flows seamlessly between different solutions and business departments.
AWeber offers a wide variety of integrations for both popular and less-well-known business software that makes it useful for different industries, types of businesses, and company sizes.
Popular integrations include:
WordPress
GoToWebinar
PayPal
Shopify
WooCommerce
ClickFunnels
Zapier
Facebook
Google Analytics
AWeber's API allows you to build your own integration if the software you use — or plan to use — is not on the list. However, companies with limited IT resources may not be able to do this. In that case, the AWeber customer solutions team can help you build the integration.
As you'd expect from a software of Mailchimp's standing, it offers a lot of native integrations. These include:
Zapier
WordPress
Xero
Canva
Chargify
Google Analytics
ClickFunnels
PayPal
SurveyMonkey
Shopify is notably absent from this list, as you must build a third-party integration to connect the two solutions. Mailchimp also has an API to help you build connections to software not on the list of native integrations.
Mailchimp expressly states that it cannot help you troubleshoot issues with APIs, and you must contact a third-party expert.
Results
While both solutions offer loads of native integrations, there will still be businesses that need help setting up connections via an API.
AWeber's customer solutions team helps you do this while Mailchimp doesn't offer any support.
AWeber takes this round.
How They Compare: AWeber vs. Mailchimp