Who is AWeber for?
AWeber is a suitable email marketing software for all. It's relatively easy to use — although its navigation and organization of features can be confusing — which makes it suitable for inexperienced marketers who haven't used an email marketing service before. AWeber also has enough advanced features to satisfy the needs of experienced marketers who want to create highly targeted campaigns.
AWeber's features
AWeber has a lot of good features. However, it doesn't have any features that really stand out, and it lacks the advanced or unique functionality of other email marketing software, such as attribution, email testing and display options, or dynamic content.
Subscribers
AWeber offers the standard contact options to manually add or upload a group of contacts. When you add a subscriber manually — which would be the case for people just starting out with email marketing who don't already have an email list – you can customize the fields. This could be anything from favorite color to gender.
As you enter more contacts, AWeber saves time by auto-suggesting possible tags and campaigns based on past entries (below).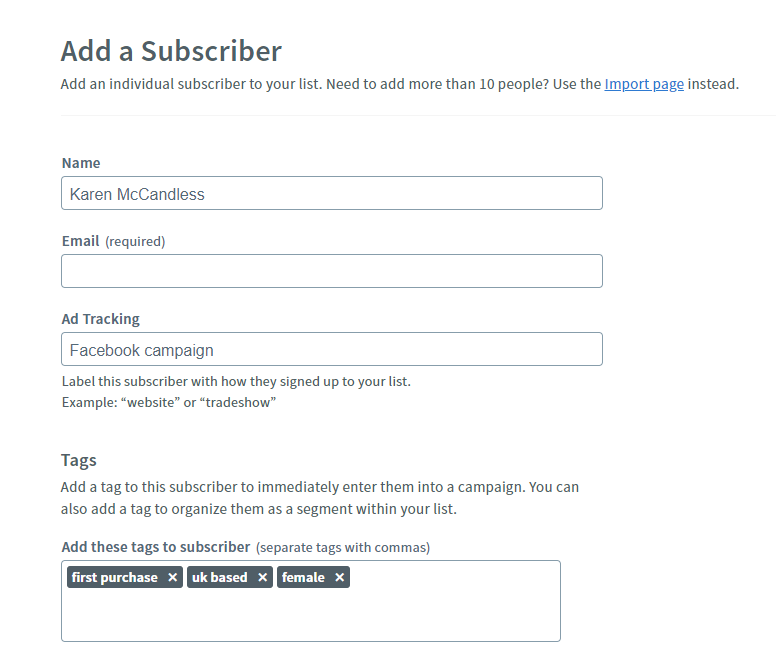 You can customize the customer information you collect to make sure you have the data you need to create segments. Then you can tailor your campaigns so that the content you send is as relevant as possible. For example, if you sell sneakers, you can collect information on gender and customer shoe size and then create a segment for women with 6-8 sized shoes (below).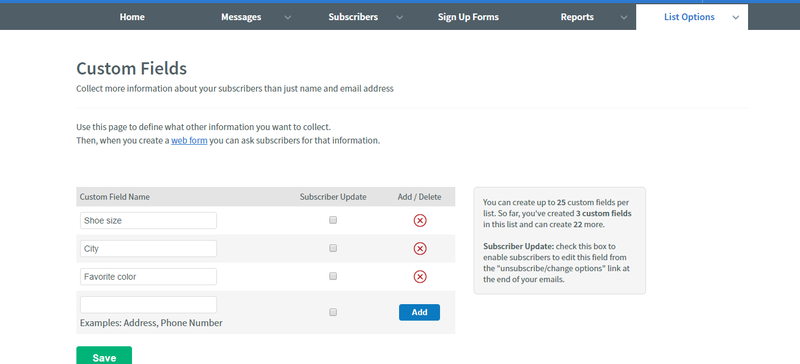 AWeber allows you to easily understand and manage your contacts so you can create the right campaigns and the right segments. There are tons of filters and search options that enable you to get granular information on customers and better personalize campaigns. These filters and search options include:
Date added
Web page visited
Sale amount
City
Custom fields you've added
Take the example of web page visited. You can see who has visited your running shoes product page, and create a campaign targeted at this group of customers. By trying to understand what your customers want, you can tailor the content you send accordingly.
There is also the option to suppress subscribers to make sure that they don't receive emails from all or certain campaigns. This is useful for situations such as when a customer has an open support ticket regarding a problem with your product or service, and you don't want to annoy them by sending a promotional email.
Messages
AWeber gives you lots of options to create emails depending on your experience and the amount of time you want to spend. One of its most interesting features is its artificial intelligence-powered email builder.
All you have to do is enter the URL of your website and it will create a range of templates in seconds. You can save as many templates as you like and then start the editing process.
The email creation dashboard is well-organized and laid out, with automatic separation of draft emails you haven't sent, emails that you are sending to everyone (broadcasts), and emails that form part of a campaign. This is particularly useful when you have created a lot of campaigns and need a more segregated view of your emails to find them quicker.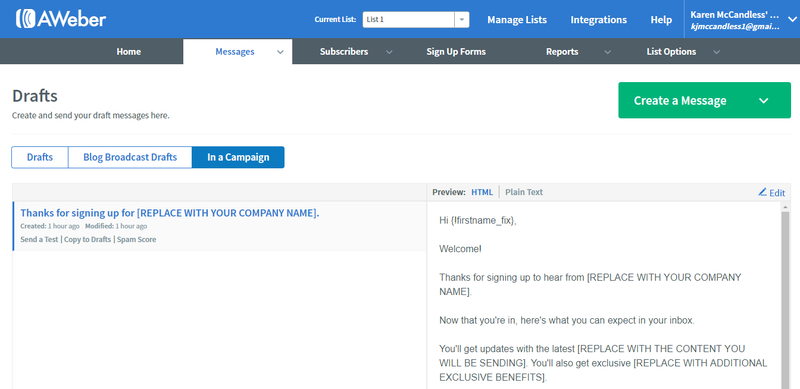 You can use a template, or you can use the drag-and-drop editor to add customizable content blocks, or — if you're an experienced marketer or have access to coding and design resources — you can build your own email from scratch using the HTML builder.
The issue with AWeber's email builder is that it has limited editing options once you've put together your template or email blast. It doesn't let you get into the knitty gritty of designing your email and change elements such as style, border, or color shades.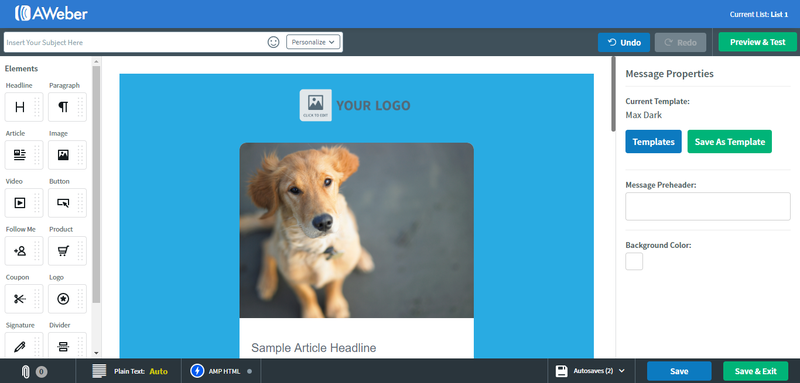 The preview functionality only has the option to send out a test to one email address. In comparison, other email marketing services will let you preview your emails on desktop and mobile, as well as see how it looks on individual email clients such as Gmail and Outlook.
The ability to calculate your spam score based on factors such as domain authority, body copy, and username, does help improve email deliverability rates and makes it more likely that your email will end up in your customers' inboxes.
However, the send time options are also limited, as you can only pick a set time: AWeber will not automatically send the emails based on your customers' time zones or at an optimal time based on past open times.
Automated campaigns and workflows
AWeber offers a series of templates to help you get started with building automated campaigns, including welcome series for when a customer signs up to your list and blogger series, which offers different, but related content, over a series of emails.
Creating your own automated campaign (called workflow in many other email marketing solutions) is easy, and you can either trigger a campaign when a new user signs up or based on the criteria you have used to tag customers (these tags are how you segment your customers).
All you have to do is drag and drop the option into the workflow.
One issue is that the workflow is linear and the actions that you can take are limited to sending an email, waiting, and then adding a tag. For example, you might want to create a win-back campaign.
If the customer opens the first email then you will want to remove them from the campaign, but if they don't open the email, you will want them to keep them in the campaign and send them the next email. This isn't possible with AWeber.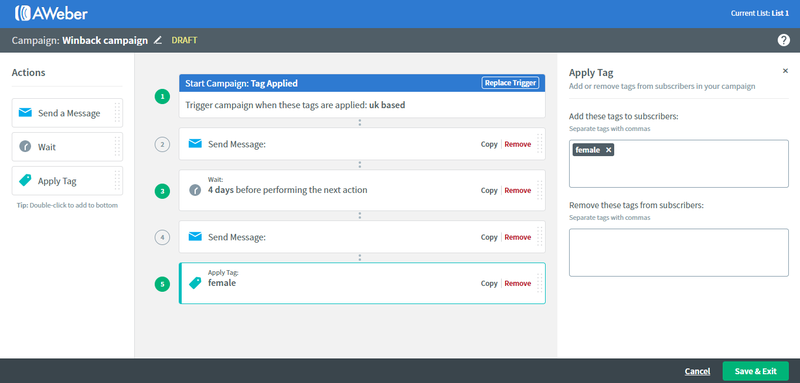 Sign up forms
AWeber provides a signup form builder (below) to allow you to collect details from potential customers and build your email lists. The user interface is clunky — it's difficult to get the different elements to go where you want them — but it makes up for it in functionality.
For example, you can customize when the popup shows, such as whether it opens beneath the current page, or displays on exit. You can also set different display frequencies, such as always, once per customer, or every few days.
This means that you can tailor each form so that it doesn't annoy the user or impede their purchase path.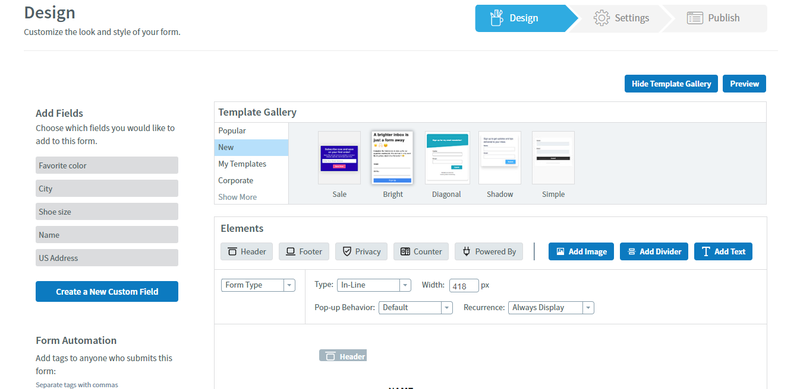 Reports
AWeber's reporting functionality tracks both email campaign metrics and email subscriber metrics. That way you can understand the performance of both your campaigns and your signup forms.
AWeber doesn't just track vanity metrics such as opens and clicks, but also more granular revenue-based metrics that allow you to properly measure the ROI of your campaigns.
This includes metrics such as:
Conversions
Revenue over time
Sales in a specific period (such as the past 24 hours)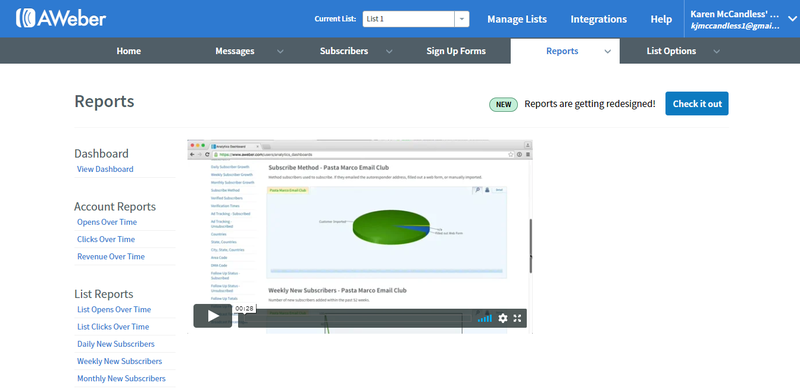 AWeber not only provides a visual representation of this data that enables you to track how well your individual campaigns do, and how all campaigns do over a period of time, it also allows you to take action based on this data. For example, if you notice that 150 people have clicked on a link for your new line of sneakers, you can create a segment that only includes the subscribers who clicked, and send them a relevant, targeted email.Benefits
Benefits of using AWeber
AWeber is a solid choice for an email marketing solution, with all the features you need to create campaigns that generate revenue, and the ease of use you need to start quickly sending attractive emails that interest customers.
Its subscriber management functionality helps you understand customer behavior, while its reporting gives you the insight you need to understand how your campaigns are performing.
It also recommends actions you can take based on that data. AWeber also makes it easy to create workflows based on behavioral triggers, so customers will automatically receive relevant communication based on actions they have taken.Support
Working with AWeber's support
AWeber offers 24/7 email and live chat support to all its customers, not just those on the higher tier price plans. These help options are easy to access; all you have to do is click on the "help" option in the main menu.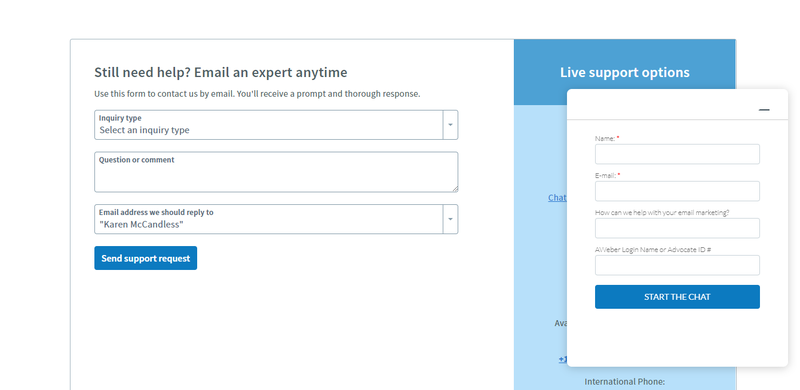 AWeber also lists links to knowledge base articles at the bottom of the relevant menus. Here, for example, there are links to articles about managing your email list at the bottom of the subscriber menu.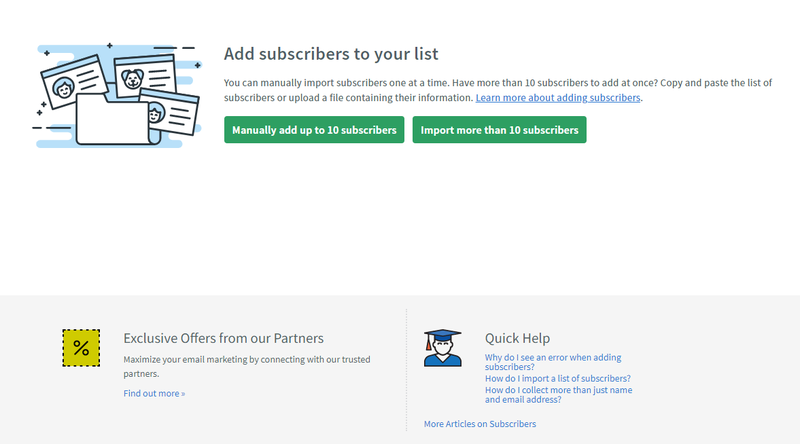 AWeber also has a list of FAQs, which deal with account-based queries and technical issues, as well as knowledge base.Pricing
AWeber pricing
AWeber doesn't offer a free plan, but you can get a 30-day free trial (you have to enter payment details to access this trial). After the free trial has ended, you have to upgrade to one of the paid plans, all of which allow you to send an unlimited amount of emails.
The paid plans all offer the same features; the price depends on the number of subscribers. Prices start at $19 per month for up to 500 subscribers, and there are five different tiers (plus an enterprise tier if you have more than 25,000 subscribers).
The starting price of $19 is more expensive than other email marketing solutions — which start from as little as $9 — especially when you consider the subscriber limit of 500 is low.
That said the basic plan includes access to all AWeber's features, while most other email marketing software limits the features available on the lower-tier pricing plans.
When you sign up for a free trial, you are presented with the option to pay monthly, quarterly with a 14% discount, or yearly where you get a 14.9% discount.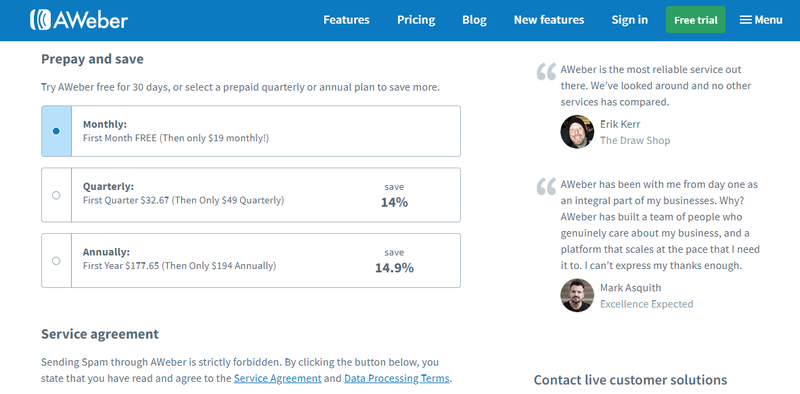 Usability
AWeber's ease of use
AWeber is in the middle ground when it comes to ease of use and intuitive workflows. It's not overly complicated, and it does provide lots of tips to get you started, but it also lacks the modern experience of its competitors, especially those that are newer to the market (AWeber has been around since 1998).
Getting started
AWeber is one of the only email marketing solutions that still requires you to enter credit card details for a free trial, as well as your full name and address, which makes the sign-up process lengthier.
When you first start using AWeber, you are prompted to set up an email list, and to enter a subject line and message confirmation text. While this is an attempt at being helpful — especially for first time users — and guiding you through the first steps to creating an email campaign, it doesn't recognize the fact that many users will already have an email list and want to import it instead of creating a new one.
Or that many users will not be ready to enter this information straightaway. These steps need to be optional, not required.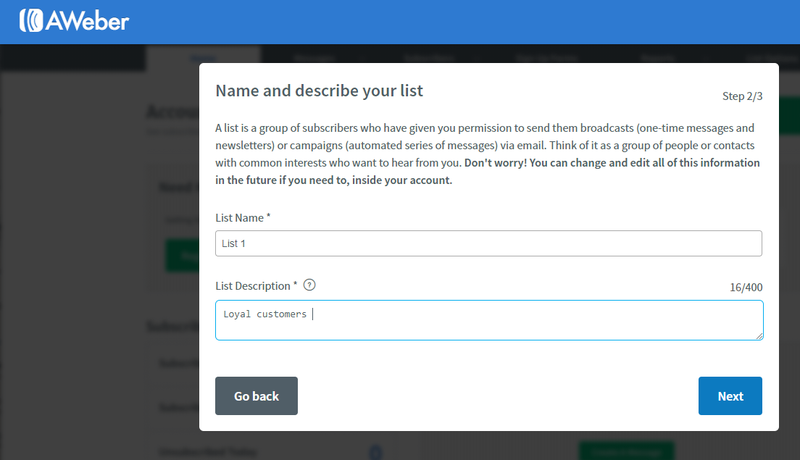 Overcomplicated processes
Despite AWeber's best efforts at directing you to take certain actions — such as importing subscribers — it's often not a very intuitive process because certain important functionality is hidden away. Take creating a segment. It's a key function of email marketing, but there is no option in any of the menus to "create a segment". To find out how to do it, I had to search Google and read a help article. When I found out the information, it was a simple process, but to do it I had to first search contacts and only then did the option come up (see below).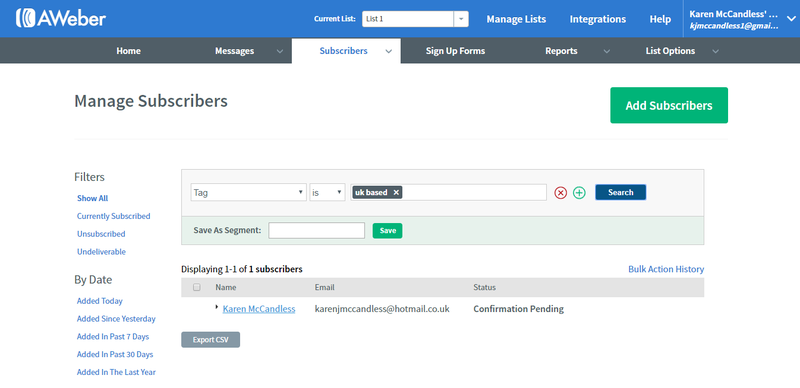 This problem could be solved by reorganizing the menus. For example, having a List options menu and a Subscriber menu doesn't make sense, and these two menus could be reorganized and renamed.FAQ
Frequently Asked Questions
How much does AWeber cost?
AWeber's least expensive price plan starts at $19 per month and allows you to send unlimited emails to up to 500 subscribers. It has four other price plans.
Is AWeber a CRM?
AWeber provides the same kind of functionality as a CRM in terms of contact management, but it doesn't have the sales and lead generation functionality that you find in most CRM systems.
How do I use AWeber autoresponder?
AWeber calls autoresponders "follow up series". To set up these emails, you can either choose the "Follow up series" option in the Messages menu, or the "Campaigns" option, which is in the same menu. From there, you can add the conditions that will trigger AWeber to automatically send emails to subscribers, for example when they sign up to a list.