Email marketing programs can help increase traffic to our website or blog and monetize the effort we make on our website.
Aweber will help us capture the information of our visitors so that we can automatically send them an email. In this way we can inform you of the updates on our blog and of the new products that we put on sale.
Aweber  is a very complete program that not only allows us to capture the information of visitors to our website, but also facilitates the creation of marketing campaigns through its configuration tools and offers us a multitude of statistics to know if we are succeeding in sending our emails.
What does Aweber offer us?
In this article it is difficult to list all the functions that Aweber offers us, however we will take a look at the most important ones.
If you are new to email marketing campaigns, Aweber has resources to learn how to do them such as videos, tutorials, etc. It also offers free live webinars and conferences that you can attend.
To start capturing the information of your website visitors you need a subscription form. Aweber autoresponder offers predesigned templates with a totally professional look that you can easily incorporate into your website.
Once visitors enter their data into the form, Aweber stores it in its database, allowing you to manage it quickly and quickly. You can assign each form to a mailing list so that you can send information to each of these mailing lists independently.
To keep in regular contact with your subscribers, Aweber offers different message type options that we can configure without having to be a computer expert, we will only have to follow the instructions that Aweber provides us.
We can write instant mails and send them to the mailing lists that we select.
We can also do follow-up emails that will be sent to all new subscribers automatically. For example, we can establish a sequence of email messages in which the first email the subscriber receives is a "Thank you for subscribing" message, a second Welcome email, a third with the information of the product we want to sell, and so all the messages we want. We can establish how many days late a message will be sent with respect to another, and Aweber will send them automatically without us having to do anything.
We must be able to know if our email campaign is giving the results that we expect or not. Aweber provides us with information about the emails that have been opened, what they are, about which links in the sent email have been clicked, etc. This type of information that Aweber provides us is essential to know if our campaign is being effective.
Aweber WordPress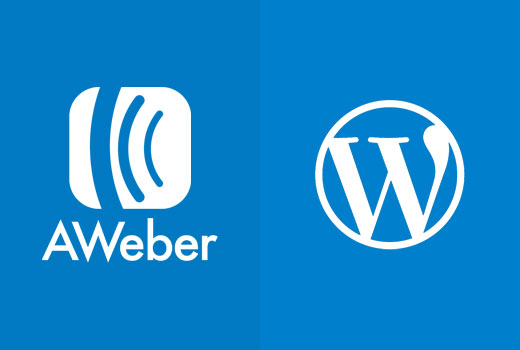 WordPress users can integrate the Aweber autoresponder into their blog or website in a very simple way. Once we have our mailing or designed mail form, we will copy the code provided by Aweber and paste it on our website wherever we want our form to appear, either within a post or in the sidebar using a widget.
Is Aweber the best autoresponder?
In my opinion Aweber is the best autoresponder on the market.
Aweber allows us to configure our campaigns quickly and easily. But let's not forget one thing, it is important that when we send our mail it is not confused with spam, and the Aweber autoresponder does a good job so that our mail goes directly to the main folder of our subscribers. Aweber has a tool that allows us to know the degree of spam that our message contains, in this way we can take the action of modifying our message to reduce this degree.
Aweber is one of the most popular autoresponders on the market. If in the future you acquire new software that allows you to incorporate an autoresponder, you will surely have the option to choose Aweber, and this will remove many problems from you.
For more information you can visit aweber
Aweber, autoresponder and professional email marketing
Today I'm going to talk about a tool that, if not the one I like most among my arsenal, is among the first three: Aweber . When you become a little more familiar with online businesses, you will soon realize that a good part of our marketing efforts are in capturing emails from visitors to our sites so that, through these emails, we can establish a relationship with them and, who knows, come to have them as our customers.
Several surveys show that, on average, it is only after seven or eight contacts with a website that the visitor actually decides to buy from it. Thus, it is clear the importance of using strategies that allow us to stay with something that allows us to communicate with the largest possible number of visitors – in this case, email.
Email marketing and Aweber autoresponder
Think for yourself: how many sites have you visited and never seen again? When we are not focused enough on something that we need to know or solve on the internet, our browsing process becomes very influenced by the links and more links that we see coming up.
Thus, it is normal that in a few minutes we travel through dozens or hundreds of websites. We often even see something that interests us, but because we haven't saved it to our list of favorites, we haven't been able to find them in the future.
So, this also happens to visitors to our sites and, as virtual entrepreneurs, we must think of tactics that allow us to retain part of our traffic .
Until then, there is no better way to do this than by sending emails to our audience, in order to remind them that we exist.
Capture email list with Aweber
However, as I said, to send messages to people, we must first have their email addresses – that's where Aweber comes in . But, what is Aweber ?
It is one of the most effective and used email sending tools in the world, used by thousands of companies and webmarketers across the planet.
Among the various email marketing tools available, Aweber has stood out as a market leader for years and, I think, this is due to some features it offers.
One of them is precisely the feature of creating email capture forms, which allows us to implement the most creative ways of inviting our users to leave their emails on our sites.
One of these ways is popups , which has proven to be the most efficient way to highlight our invitation and increase our conversion rate (sign- ups ).
This invitation, however, can be done in the most diverse ways (your creativity is your limit) and the most common way is by offering something free, which must be obtained by filling in the data on the capture form.
In addition to the possibility of inserting popups, Aweber also allows your forms to be easily inserted into capture pages , through a simple line of javascript or html code. If you don't know anything about programming, however, don't worry.
The installation of Aweber on your website is extremely simple and intuitive and this is also another factor that makes it one of the best programs to send email marketing today.
Why I use and refer to Aweber
The first thing I need to say is that I have already tested some of the most used competing platforms from Aweber – some in a little more in-depth way, others only superficially, but I think enough to give my opinion.
After all the tests, of medium or long periods using one and the other, I decided to concentrate only on Aweber all my lists and also that of some of my clients who do email marketing .
Although today I read that the scenario is a little different, with all of them kind of equaling, at the time of my choice, I did it mainly for two aspects: 1- delivery rate, 2- integrations with other systems.
I remember that at the time I tried to use a system in Portuguese in the project of a client, who needed an autoresponder (one of Aweber's main features, which requires an exclusive post), and I ended up having so much trouble that I almost lost the client – as if the fault of the emails didn't reach me.
From then on, I gave up all other tools. For me, the email delivery rate is the main aspect to be observed when choosing your email marketing platform , as spending time, money and creativity to create strategies, capture pages, set up autoresponders and, finally, view your emails going straight to the electronic trash is despairing.
The other point, the integrations, were also decisive for me, because doing a quick analysis, when I chose, I remember that Aweber was the only one that integrated easily with all the platforms I was working on, like phpBB, Magento , Amember and others.
So I chose and have been using Aweber for more than three years, during which I have nothing to complain about. It is true that the guys are a little stern and extremely intolerant of anything that looks like spam, sometimes acting arbitrarily, as I have seen in some reports of users of the platform.
But that is precisely why they manage to maintain the quality of the service. So I have nothing to complain about.
And you, are you already using Aweber ?